The best tactical dog harnesses feature only military-standard material and components, and are designed with quality, strength, and versatility at the forefront. With additional features such as top-mounted handles for instant control, side pockets to hold personal necessities, and solid D-rings for leash and tag attachments, you can go out in the world with your loyal companion knowing you're both in good hands/paws. Best of all, tactical harness vests come in all sizes, leaving no great or small furry friend behind.
Man's best friend has long provided his human counterparts with love, loyalty, and protection. Service dogs and beloved pets alike are irreplaceable members of one's family, so why not outfit them in gear that will last a lifetime, and make that of yours and your canine companion all the better?
1.No Pull Large Tactical Dog Harness and Leash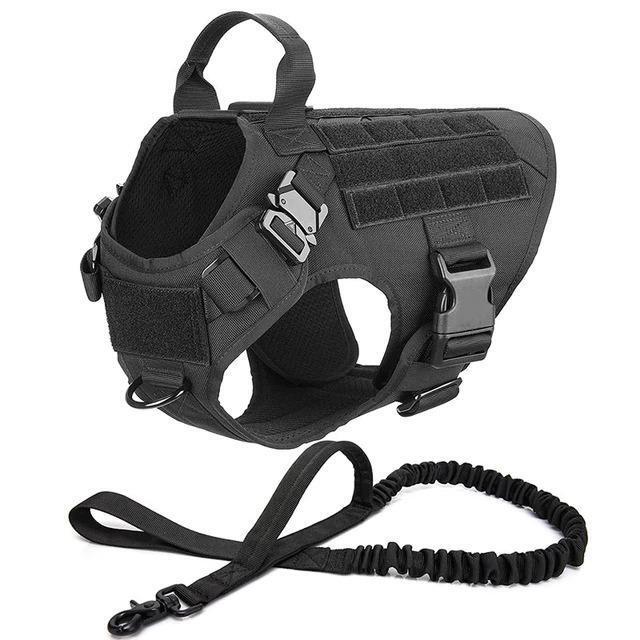 This high quality vest harness comes with a strong inner webbing that is breathable to enhance the comfort of your dog. The material used is military 1050D nylon, which is one of the strongest materials in the market today. It has straps on the chest area and belly that are adjustable to give the dog a good fit. The straps also provide the stability needed to keep your dog comfortable during any outdoor activity.
It also has a MOLLE system on the sides where you can put pouches, magazines etc. It is available in varying chest and neck sizes that you can choose from depending on your dog's size.
2.Elastic Rope Fit Extra Water No Pull Large Tactical Dog Harness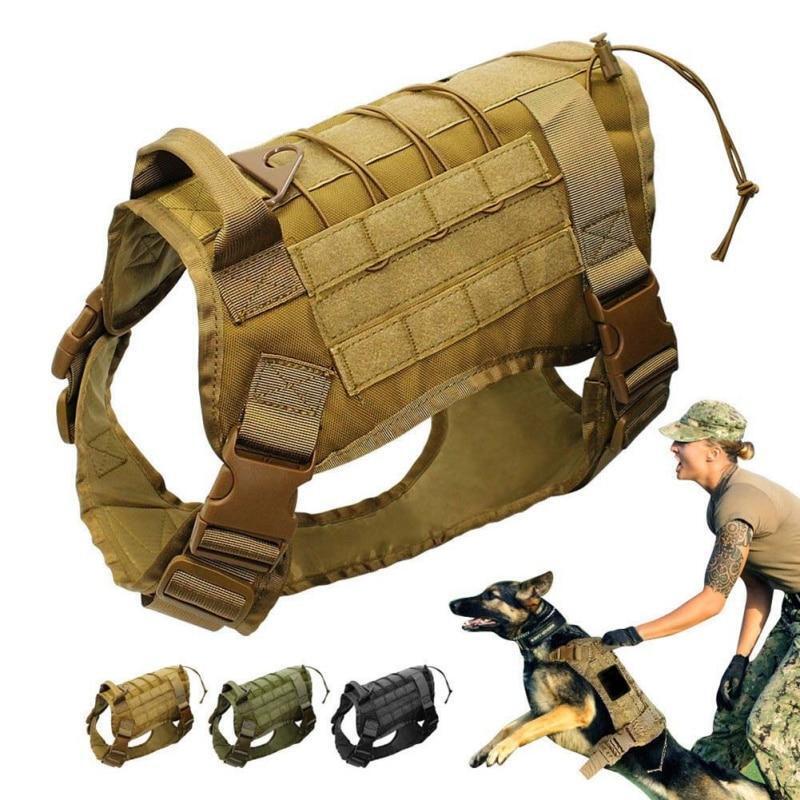 This harness is designed with a tactical MOLLE that keeps the dog safe from injuries. It is made with a 1000D nylon material that makes it ideal for the strongest military dogs. Besides being capable of holding strong dogs, you can also use it effectively on your training as it comes with a camouflaging hue.
Underneath, this vest harness is fitted with a grid lining that makes it breathable, enhancing the dog's comfort. To protect the dog from fret, the collar is highly padded. It is designed with two carry handles and two plastic buckles where you can fix the leash. The straps of the vest harness are adjusted to fit the size of the dog such that it is stable and comfortable to use.
3.Tactical Dog Harness With 3 Detachable Pouches for All Size Dogs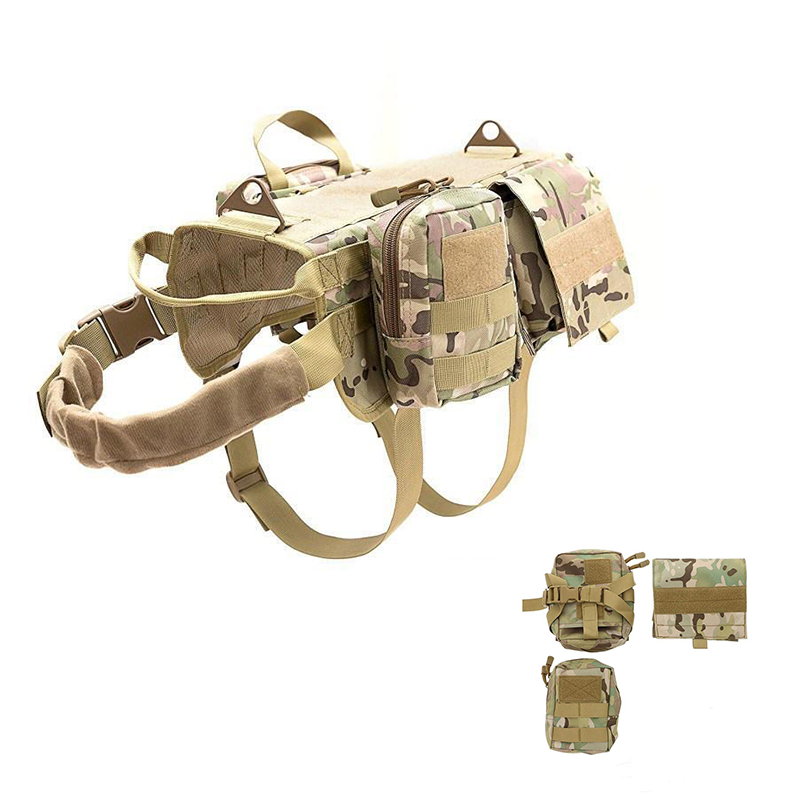 This harness' buckles are made from acetal plastic for a comfortable and safe fastening. Though, you can opt for Cobra buckles instead. It comes with a MOLLE system on the side where you can put the dog items and a harness pal for a camera, flashlight, or other relevant items. It also comes with a Velcro that you can use to safely attach the patches and 2 D-rings for the leash attachment.
This Caliber Dog harness has two handles that you can use to bring up the dog in case of obstacles on your path. The front part is well padded and you can easily adjust it from three different points. The front and back straps are also adjustable for a better fit.
4.Large Tactical Dog Harness With 3 Detachable Pouches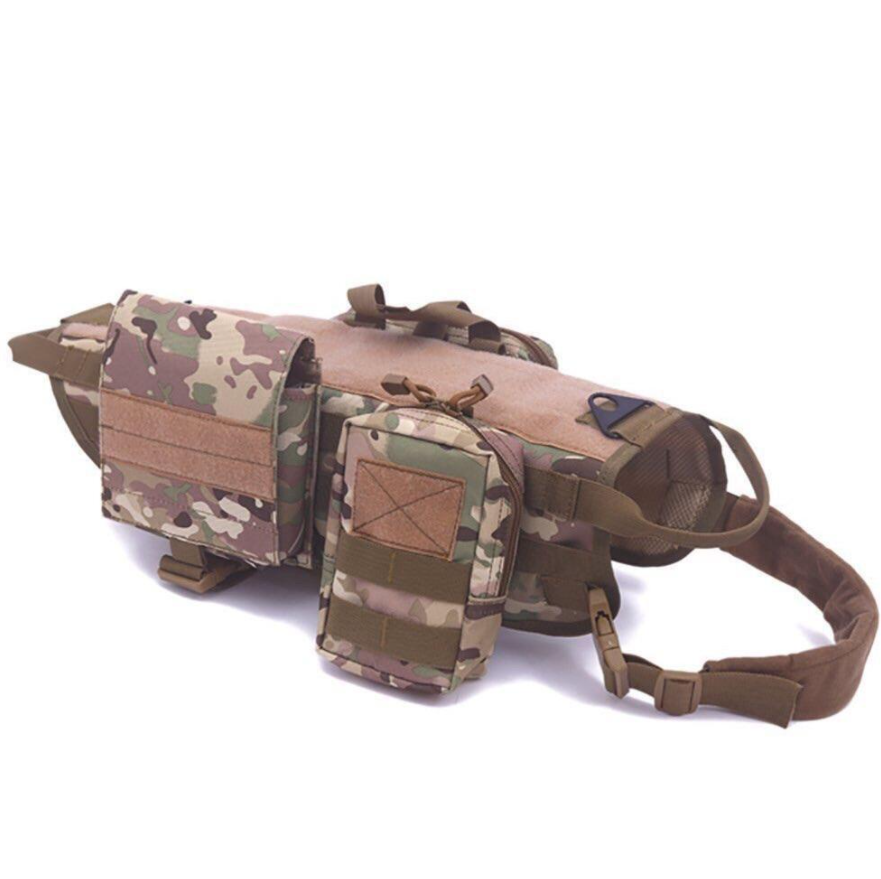 This is the best vest harness for dog training in the military or police departments. When worn, it takes the shape and contours of the dog for proper fitting. The neck straps are adjustable enabling the harness to fit snugly. The girth strap is designed to accommodate the needs of all dogs as it sits on the far front. It has handles on the top for you to fix the leash and control the dog comfortably.
The buckles are fixed above some padding to avoid injuring the dog's skin. It has MOLLE straps where you can patch all your dog's accessories.
5.Elastic Rope Fit Extra Water No Pull Large Tactical Dog Harness Vest and Leash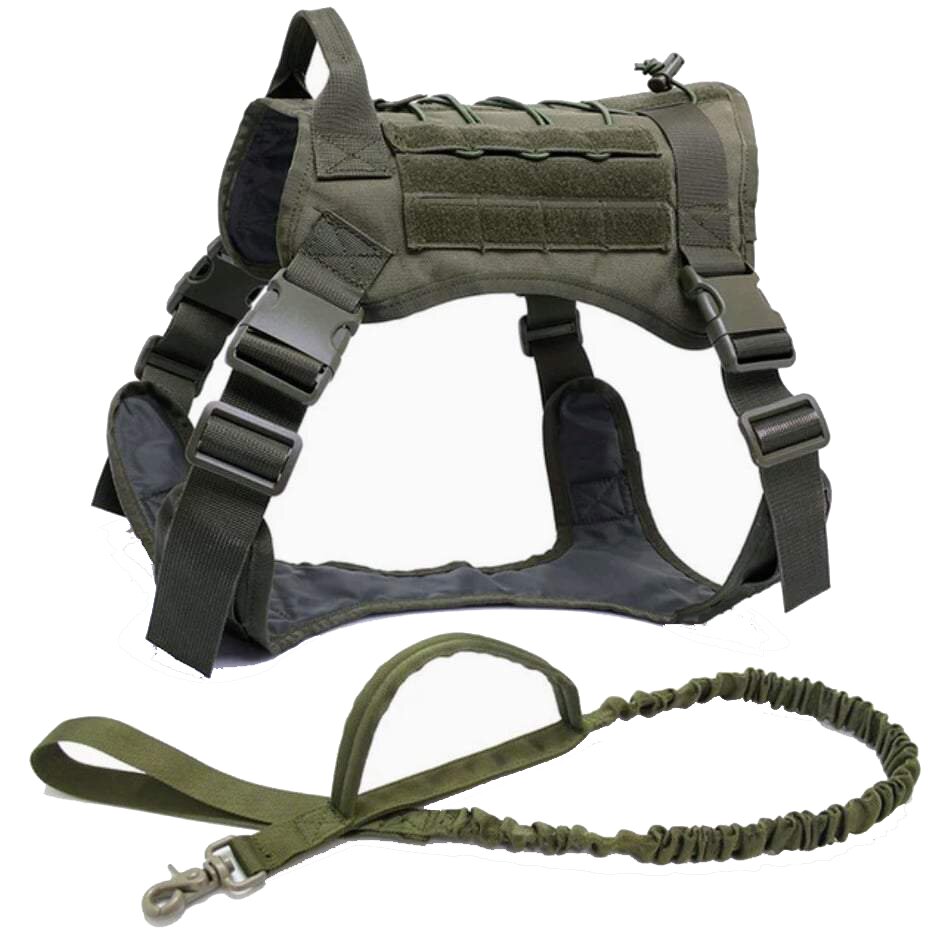 The fabric used to design this harness vest is 1000D nylon, which makes it strong and highly durable even when used on large dogs. The soft padding on the inside and around the collar makes it comfortable for the dog. The straps are not only adjustable but also come with four release buckles for the leashes.
More fascinating is the V-ring handle that allows the dig to control its movement with ease. The back has a Velcro design that you can patch accessories such as logos. The MOLLE design, on the other hand, is available on the sides so that the dog can efficiently carry its essentials.
6.Colorful No-Pull Tactical Dog Harness for All Size Dogs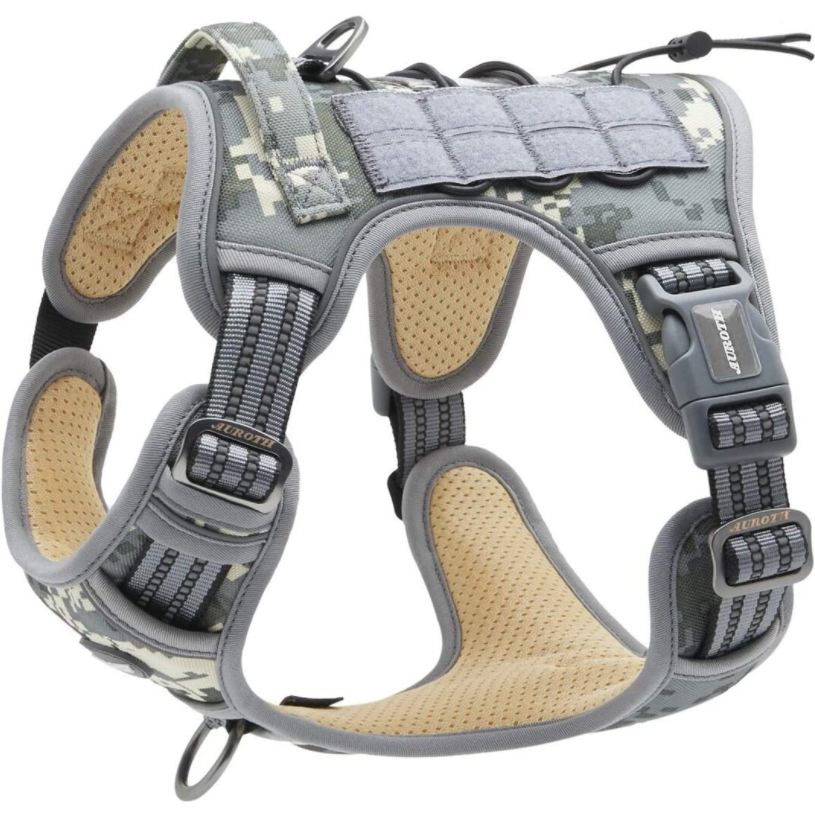 EASY ADJUSTMENT:Put on and take off this product with 2 quick-release buckles with no hassle. 4 fully adjustable straps (2 Shoulder and 2 Chest) allow a snug fit with maximum mobility.
DURABLE MATERIAL: Our heavy duty vest made of 900D Nylon with sturdy stitching for extra durability, suitable for all fields use. Two rings can bear great pulling force , ensuring your dog is safe during training, hunting, working, and any other occasions. Well padded in every pressure load point to protect your dog's skin, while the breathable air mesh keeps your dog comfortable.
Molle System Use: Two 1" strips of Molle Sewn on both sides, allow your dog to carry gear in training. A wide range of use for personal service, law enforcement, hunting, or outdoor recreation. (Included ID Badge- SERVICE DOG or BEST FRIEND ). It compatibles with Molle /PALs Pouch, so you can also hook dog bowl, water bottle and toys(No included).
MAXIMUM CONTROL & SECURITY: Dog safety harness features 2 metal leash attachment points for dog walks safely - One front clip for No-pull control or dog training, and the other one back clip for casual walking or jogging.
7.Colorful XS Pink Tactical Dog Harness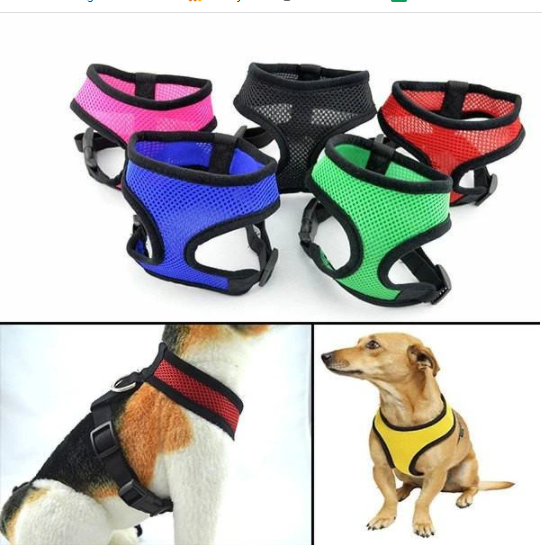 Made with a soft, breathable air mesh, this lightweight pet harness is perfect for walks all year round.Very suitable for small dogs
8.Colorful Pink Reflective Tactical Dog Harness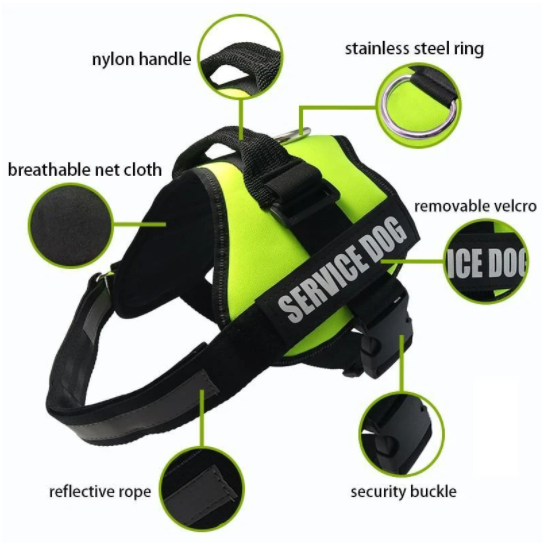 SUPER COMFORTABLE: Pulling pressure is evenly distributed to the body to prevent pulling and choking. The dog vest harness have a adjustable chest strap with snap on buckle, move its body parts freely, can customized fits for your dogs growth do not need to always change it.
STURDY HANDLE: The rugged nylon handle further enhances your distance from the dog and is more intimate with each other. It is also the best partner for service dogs and is easy to control your dog.
OUTDOOR SAFETY: Reflective straps to ensure your dog is highly visible and keep dogs safe at night. You can connect the dog leash on the D-ring and it is safer on crowded streets. The high-end harness is perfect for daily walking, running, hiking, training, hunting, outdoor adventure and more!
The back has a Velcro design that you can patch accessories such as logos.
9.Accessories